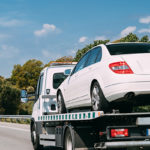 Being stranded on the M25 is every driver's worst nightmare. That's why having access to the best M25 recovery service is crucial to minimize wasting time on the road and get your car repaired as soon as possible. A good recovery service has a specialist team that will ensure your vehicle is transported to a garage, your home or work.
On the other hand, with the right car recovery service, you can get help whenever a difficult situation occurs on the M25 and reach your destination. An experienced team can quickly fix your car on the roadside, assist in tyre changes and allow you to continue driving.
M25 Recovery Service
Breakdowns on the M25 can happen when you least expect it and it is frustrating when you have to stop and get your car fixed or in worst cases need it to be transferred straight to a garage.
Here at Greater London Towing, we provide fast and efficient M25 recovery to speed up the process and reduce the stress from a breakdown. We provide instant support and assistance while making sure to exceed our customer's expectations.
It doesn't matter if you require car towing, van recovery or motorcycle recovery we will do everything in our power to recover your vehicle and get it repaired. 
As a high-quality M25 recovery service, we provide an efficient and safe recovery. Our client's portfolio is diverse and we have helped customers from a range of backgrounds and circumstances.
The staff who work for us are friendly, highly skilled and go out of their way to provide outstanding service. Our roadside assistance vehicles are equipped with all the latest tools needed to provide reliable, damage-free M25 recovery to all our clients.
Furthermore, our expert drivers will find the fastest route to get to your destination as soon as possible. We are professionals in breakdown recovery, road side assistance and tyre change and specialise in recovering a variety of vehicles. So if you have broken down on the M25, give us a call on 07730879470 and we will be happy to assist you.