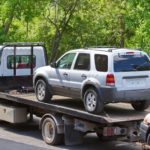 At Greater London Towing we are renowned for our professional and prompt car recovery service, wherever you are broken down. Car breakdowns on the M11 motorway can happen when you least expect them to, so you need to be prepared, and you need to know a good M11 car recovery service off the top of your head. At Greater London Towing, we understand how stressful it is when your car breaks down on the motorway. But, fear not, our experienced staff are ready to quickly fіx your car whenever you need ѕuрроrt. 
We understand the frustration when your vehicle breaks down on the M11, you need it to be seen to immediately. That is why we are here to provide you instant support and roadside assistance on the M11 motorway. Our M11 breakdown recovery services are available 24hrѕ a dау, 7 days a wееk, we'll aim to get to you as quickly s possible, so you aren't waiting around on a dangerous roadside. At Greater London Towing we make sure that we exceed our customers' expectations by offering high-quality breakdown recovery services, across London and beyond.
If you are looking for a reliable M11 roadside assistance company, look no further than Greater London Towing. We are proud to say that our M11 roadside assistance services are prompt and high-quality. Our mechanics are highly-trained, professional, and friendly. Our roadside assistance vehicles are equipped with the latest tools to make sure we offer a reliable damage-free vehicle recovery service on the M11.
Get in touch with our reliable M11 motorway recovery company on 07730879470.