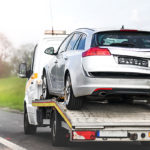 There are few worse situations on the road than being stranded in your car on the M25. That's why using an efficient M25 van towing service is essential to avoid wasting hours on the road and getting your vehicle repaired quickly. A high-quality van towing service will ensure that your vehicle is transferred to your home, work or the nearest garage.
Alternatively, with the right van towing service, you can be aided in any unforeseen circumstances on the M25 and ensure you get to your destination. A professional and specialist team can change your tyres, repair your car on the roadside and allow you to keep driving.
M25 Van Towing Service
Your car breaking down on the M25 can happen by surprise and it is not ideal when you need to stop and get your vehicle fixed, or in some cases, transported to the nearest garage for further repairs.
Here at Greater London Towing, we provide a quick and seamless M25 van towing recovery service to reduce the stress from a breakdown and fasten the procedure. Our support is instant and we strive to meet our client's expectations.
Whether you require motorcycle recovery, van recovery or car towing we will do everything we can to recover your vehicle and repair it.
As a renowned M25 van towing service, we offer comfortable and speedy recovery. Our customer portfolio is very diverse and we have helped clients from a large array of cultures.
Our staff are experts in van recovery as well as being friendly, helpful and competent. The vehicles we use for roadside assistance contain the latest tools required to ensure a dependable, injury-free M25 van towing service to all our clients.
Onwards, our professional drivers at Greater London Towing will find the quickest route to get you to your destination. We are experts in tyre change, road side assistance and breakdown recovery and specialise in recovering a vast range of vehicles. Therefore, if your car has broken down on the M25 and you're stuck, call us on 07730879470 and we will be happy to help.